His communication and attention to detail are unmatched
"Thanks to Richard the process of moving into our new rental was seamless. His communication and attention to detail are unmatched. We are lucky to have found a realtor who we can really trust. We look forward to working with him again once we're ready to buy!"
Through persistence, creative problem-solving, and effective communication it was Richard who managed to bring both parties to an agreement.
"I want to express my genuine appreciation to work with Richard Wamsat. From our initial consultation, it was clear that Richard was determined to find us a home that ticked most of the boxes of our wish list, including meeting our cultural requirements in Vastu Shastra. In a competitive market like Irvine, having a strong advisor by our side was crucial. We were grateful and lucky to chose Richard to guide us in our journey. Throughout the process, we encountered various hurdles, but the skills and expertise that Richard had kept us going. When we found our home we discovered that it was owned by an unrepresented seller who was also an attorney, it posed unique challenges and needed tough negotiations. There were moments when it seemed like the deal might not come together, but Richard didn't give up. Through persistence, creative problem-solving, and effective communication it was Richard who managed to bring both parties to an agreement. We accomplished all this in 15 days! I recommend Richard for any of the real estate needs as he has tremendous in-depth knowledge and good negotiation skills."
Doesn't cut corners, and gives you direct no-nonsense advice.
"I would highly recommend Richard be the first person of interest for anyone looking to buy or rent property in Southern CA. He's extremely knowledgeable, professional, doesn't cut corners, and gives you direct no-nonsense advice. I used Richard to rent out my departing primary residence for the first time, and by following his advice step by step we got my unit under Lease with a well qualified tenant within 1 week of hosting the first open house showings. I did not have time to waste letting my unit sit on the market for 30-60+ days as some other units inside my community have done. Thank you Richard!"
Outstanding realtor and a great person
"Richard is an outstanding realtor and a great person. I cannot recommend him enough. I first met Richard about 4 years ago and he graciously gave me his time and helped me look for potential properties to buy. I never ended up buying anything then, but 4 years later I reached out again to see if he would help. He immediately remembered me and offered to help. I think 3 weeks later we put an offer in on a property and the rest is history. Richard made sure I understood every step of the buying process and I found his patience and advice invaluable. I love all the attention to detail he provides. I would absolutely work with him again given the chance."
Notices slightest pieces of worth-while stuff
"Richard Wamsat is an honest, trustworthy person overall. He has good background and notices slightest pieces of worth-while stuff and will guide you through the whole thing. He has assisted me in buying process and I am very happy how he made the process entirely smooth and i did not even have to worry about things! The best Realtor in town! Has immense knowledge and skills. Thanks Richard for helping me in buying my first home!"
Muhammad B. - Anaheim Hills, CA
extremely knowledgeable about the process
"Richard is an amazing realtor. Richard is extremely knowledgeable about the process as well as about homes, in general, which helped us to make informed decisions at every stage of the process. Richard was also very patient and responsive while helping us to navigate a stressful and competitive real estate market. Without a doubt, I would recommend Richard to anyone!"
Mutua and Lily - Coto de Caza, CA
EXPERIENCED MARKETING & NEGOTIATION — SIMPLY THE BEST
"EXPERIENCED MARKETING & NEGOTIATION — SIMPLY THE BEST If I had to name the best financial decisions I've made on one hand, Richard was responsible for two of them. In looking for an agent, I wanted a realtor certified in meeting the ethical standards of the profession. In addition, the best realtor would give me seasoned advice that saved time. Below are separate experiences I've had with Richard over the last decade where he demonstrated those strengths. BUYING In buying a home, Richard helped me with many aspects, such as preparing my finances as self-employed, handling aspects that reduced my stress, and pushing (by my request) so I wouldn't drag my feet. At the time, I didn't know exactly what kind of home I wanted or how much I should put into one. Richard handpicked homes to show that helped refine my preferences. This led to finding a home I loved, and we made an offer within 24 hours of the listing; however, we were outbid by a cash investor. Richard went to bat for me and negotiated in such a way that my offer won out. I built my life in that home and was always grateful for it. Eventually, its value appreciated higher than my most optimistic estimate. SELLING In selling our home, Richard helped us with: cleaners, staging, photos, pricing, marketing, and negotiating. If your agent isn't doing this for your listing, I would ask if you have the right person in your corner. After reading through so many other listings that didn't explain what was special, had inexplicable photos, or led to deals that fell through, I came to appreciate how great a job Richard did with marketing our listing. He knew exactly what the home "symbolized to a buyer" in the description and hit a home run with the photos. Along the way, Richard kept me updated on housing trends and comps. His advice let us set a price which led to multiple offers over asking. Even though I don't believe in trying to time the market, after it was over, we looked back and couldn't believe how lucky we were in having Richard position us for the highest valuation we could get. Heading into escrow, Richard's negotiating experience came to be indispensible yet again. The RE market during this time was insanity, and as a result, a few potential buyers were behaving irrationally. Richard handled these unexpected stressors with grace and shielded us from having to deal with unpleasantries. At the beginning, my partner was skeptical of all RE agents because of her past experiences. By the end, she completely changed her mind—she said she'd never seen a realtor do all that Richard had done for us. SUMMARY I'm sometimes hesitant to give referrals because my reputation is on the line. But I refer Richard to friends and family whenever I can. Get Richard to represent you, and make one of your best financial decisions."
The level of detail with everything he did was impeccable.
"Richard was an absolute pleasure to work with! He helped me through the entire process and was so thorough through it all. What made the process even easier for me was that he was so accessible at all times and walked me through everything step by step. The level of detail with everything he did was impeccable. So happy that I was able to find my first home and so glad that I had Richard's help and guidance each step of the way!!!"
Apoorva J. - Aliso Viejo, CA
We have worked with him twice and [Richard] is our go to person for anything real estate.
"It has been a pleasure to work with Richard as our realtor. Having moved to California from out of state, the process can be very daunting but he eased us into it. He is very thorough and has the depth and breadth of knowledge when it comes to real estate. He always has the best advice for his clients and is always available. We have worked with him twice and he is our go to person for anything real estate. Before taking us on a property tour, he does his research and comes prepared. He is punctual, patient and is never pushy. I'd highly recommend him to anyone looking for buying/renting in OC."
Tariq and Iram - Irvine, CA
Richard is the Recommended Agent of a Real Estate Attorney
"If you want the most knowledgeable realtor in Orange County Richard is the one I recommend to use as a Real Estate Attorney. I have had several of my own transactions along with my clients and never have met a realtor so knowledgeable about the process and documents. He also has a great sense of humor and always got back to me right away. It is a win-win situation with Richard, especially in this tough buyer's market."
Felicia and David - Irvine, CA
We closed the house in a record-breaking 10 days!
"We got Richard's contact through our friend, and we are glad we decided to go with him. Richard was very pro-active in finding appointments for the houses we like. He not only showed the houses virtually, but also the neighborhood since we are not from Irvine. His knowledge on Irvine neighborhood is impeccable. We closed the house in a record-breaking 10 days! We are more than happy to refer Richard to our friends/family. - Yoga. Richard is a detail oriented, caring, honest and extremely knowledgeable Realtor. He truly is phenomenal and I highly recommend him to anyone who is looking to buy or sell a home. He helped us find and purchase home while we were out of state. Richard will patiently listen to all of your needs & wants, explain in detail his perspective (with data to back it up) on the areas as well as the individual homes so that you're fully aware of the situation before going into a long term investment. Further, Richard will highlight all of the pros and cons of a particular home and neighborhood. He is never pushy and will respect your likes, dislikes as well as your decisions. He is also very proactive and ensure that all of the paperwork as well as due diligence (agent walkthroughs, permits etc.) are handled expertly. He was also excellent in explaining every aspect of a real estate transaction and answering any and all questions patiently. Above all, Richard is also an amazing person. He is a pleasure to work with and we will 100% be looking to him when we decide to move next. - Gopal."
Gopal and Yoga - Irvine, CA
Richard was very knowledgeable about both the home buying and renting process.
"Richard was very knowledgeable about both the home buying and renting process. He knew we were looking at both options and never pressured us either way. He was always available when we had questions or wanted to look at a property."
Aaron and Sarah - Irvine, CA
He got what I wanted...Thanks Richard
"Every process finished in 2 days. He got what I wanted and addressed any concerns to the landlord. I had to get rent one in one week and it was a fast track with him. Thanks Richard."
Richard helped us navigate one of the hottest seller's markets in history.
"We were blessed to have Richard's services in buying a house. He helped us navigate one of the hottest seller's markets in history. Richard was by our side and walked us through the entire process down to the minute we closed and beyond. Richard was very honest in explaining the pros and cons of each house we wanted to view. He was always on time or early to our meetings and even surprised us when he joined us for our notary with Escrow. Our home buying experience was more like an exhilarating adventure versus what we experienced with our first agent Sherry who said our attempts to purchase a house was hopeless. I feel like Richard's personality brings out the best in people. We are very satisfied clients and we will definitely utilize his services again."
Daniel and Susan - Cypress, CA
His professionalism and experience were a big factor in my first offer being accepted over another.
"Richard was an outstanding agent! He was very knowledgeable and always patient, honest, nice, responsive, professional, and most of all a great teacher. When I first spoke to Richard I told him as a first-time homebuyer that it was very important to me that this be a learning experience and he completely embraced that from our first call to handing me the keys. There was never a time he couldn't answer a question that I had and never shied away from providing or explaining the details. Many times he pointed out details (good and bad) of a home that I would never had noticed or known were a big plus or an issue. In addition, he always provided his honest opinion and I never felt rushed or pressured. His professionalism and experience were a big factor in my first offer being accepted over another. I've already recommended him to friends and family and I would definitely recommend him to anyone reading this, especially other first-time home buyers."
Garrett O. - Huntington Beach, CA
We could not have done it without you!
"Richard, Thank you for all of your help throughout this process. It was such a pleasure to work with you as we start this new chapter. We could not have done it without you!"
Raghav and Akshaya - Portola Hills, CA
When we thought he couldn't impress us anymore... then came his negotiating skills
"Richard is an amazing real estate agent, truly the best of the best! He made buying a house such a breeze! My husband and I were new to home buying, and have heard horror stories from friends and family about terrible agents. We had worked with two previous agents that were just not a good fit and as experienced as Richard. Richard was professional and so knowledgeable, especially for our unique home! He never made us feel uncomfortable and helped us every step of the way! He explained everything in a way that was easy to understand from the making the offer, to working with contractors for the inspections, to working with the lender and the escrow company. He provided excellent communication, so we were always in the loop and updated. I travel, so Richard always was very flexible with timing of calls or video calls. We were extremely impressed by his knowledge of this particular neighborhood and certain particular information that got our offer accepted. He went through all the paperwork and always took his time to answer all of our questions, always very thorough and detailed. When it came time for the inspections, his recommendations for the companies to use were top notch. When we thought he couldn't impress us anymore... then came his negotiating skills, once the inspections were completed. He worked his magic once again and got us exactly what we asked for. He handled everything for us so that we didn't have to deal with any issues that came up and brought us great solutions. For example, the sellers had an issue with moving out that caused a delay with receiving our keys on the agreed upon day. Richard was on top of this and made sure that we didn't have to reschedule our movers and that our plans still proceeded as scheduled. We 100% recommend Richard to all our friends and family. When we are ready for our next purchase, we will absolutely be reaching out to Richard, we just wouldn't trust anyone else and want to be in great hands. If you want a stellar agent that is very effective and efficient we 1000% recommend Richard."
Julian & Lorena W. - North Tustin, CA
He guided me through every obstacle that came up with patience and wisdom.
"Recently Richard helped me to sell my condo, in Irvine, calif. I could not of done this without his help and expertise. When we met Richard told me that he handles all of his listings the same, whether they are small condos or multi million dollar homes. This is absolutely true! He guided me through every obstacle that came up with patience and wisdom. I never felt that I had to chase him down, he would return my calls quickly and was always helpful in guiding me to make the right decisions. I would not hesitate to recommend Richard."
Richard is hands down the best realtor we've ever worked with
"EXTRAORDINARY! Having gone through many buying and selling of real estate of the last two decades, working with Richard opened my eyes to many details I simply was not aware of. Richard is extremely detailed oriented, extremely responsive, educating (as he works to assure his client fully understands the options and what is being asked of them), along with working tirelessly to assure he is doing everything he can to advocate for his client. Richard is hands down the best realtor we've ever worked with and we would highly recommend him to anyone! Real estate transactions can be daunting and while many of us may just glance over the details, Richard digs and assures his client is advocated for and protected."
Scott & Melissa - Huntington Beach, CA
Went Above and Beyond What We Expected
"Met Richard and Ken at an open house. We didn't have an agent at that time and were just browsing. They reached out and set up an appointment with us to understand what we were looking for. After a few months when we started getting serious about buying a house, they were very responsive with viewings we were interested in. They didn't rush us at any time to force our hand. Once we decided to make an offer, they walked us through the process thoroughly and patiently. Even while in escrow, they guided us and helped us through parts of the process that went beyond what we'd have expected. All in all, 5 stars to both of them."
It Was A Pleasure To Have Richard As Our Agent
"Working with Richard have been a great experience. Richard understands the home market value and knows what needed to make the home attracts buyers. Richard is very informative and notify my family of any actions that needs attention."
Tristan and An - Fountain Valley, CA
Jumping For Joy After Selling My First Home!
"Richard Wamsat was awesome! I give him 5 stars all the way around. I recently sold my home that I had lived in for almost a decade. Located in The Lakes in Irvine. He was a such a support through the whole process of selling a home. Being my first sell he was really great from explaining the agreements to all the little details in-between that needed to be handled. He was excellent with the negotiation process and represented the sellers' side well. This is what you want when selling a home. But, Richard goes above and beyond! He isn't just your average Real Estate Agent. He takes time with his clients. And he understands the time it takes for you to let go of something you have lived in for a long time and put a lot of hard work into and lots of memories. He listens to concerns, is patient, and gives really good industry advice. He understands he is also selling not just a home but a community, and to do that he had very good business sense, and understands the stats and comps for the area my home was located in. You can tell the first time you meet Richard that he is passionate about Real Estate. And he cares about your home. Your home is not just another buy or sell, but a connection to the community he lives in. Thank you for your help!! I would highly recommend Richard to anyone"
Richard Took Care of Everything and Then Some
"You should just never use any realtor other than Richard! Richard took care of everything and then some for us when we left our condo in his hands and moved to a new state before it was even listed...during a pandemic. He negotiated with contractors on the repairs and even got in there himself and did some of the work for us. And he is knowledgeable about what repairs are worth it and can get you that extra value for your home. He translated all the legal/realtor jargon, helped us navigate through multiple offers, and we felt safe and confident in his hands despite that we weren't in the state anymore to oversee anything first-hand! He marketed our house on every platform where marketing can be done. The staging was so good, it made me want to buy back my own place! Richard is experienced, friendly, knowledgeable, and honest. You cant ask for a better realtor!"
Brent and Antje - Irvine, CA
I was very pleased with how smoothly the whole home buying process went.
"I interviewed 5 different real estate agents and Richard Wamsat and his associate Ken Yonemitsu were the most knowledgeable, informative and engaged. Their experience in South Orange County, responsiveness and helpfulness with answering questions, and the way they educated me about the home purchasing process was nothing short of exceptional. I was very pleased with their professionalism, personability and how smoothly and expediently the whole home buying process went, despite the limitations of the 2020 Covid-19 pandemic. I couldn't have done it without this real estate team! Richard and Ken are affiliates of Coldwell Banker, but if you hire them you will be dealing only with Richard and Ken and not someone else from Coldwell Banker. They answered every question I had, educated me on everything that I needed to know, and were with me through every step of the process. A great team!"
Alyssa C. - Foothill Ranch, CA
We are loving the new house.
"As many first home buyers and relatively new in area, we started looking a list of agents in internet. And we're so happy, that after phone call one of them recommended Richard! His help and assistance during whole process, from first steps to move-in, and after was so important. It includes not work with documents only. Richard's experience, handy knowledge and critical thinking helped to solve problems identified during inspection and saved significant amount of money for us. He is always on the line during workdays and weekends from early morning to late evening. We highly recommend Richard; if you buy a property - he will do the best to help and protect you during process."
The Zagreba Family - Irvine, CA
We are loving the new house.
"Dear Richard, We are loving the new house. Thank you for helping find it!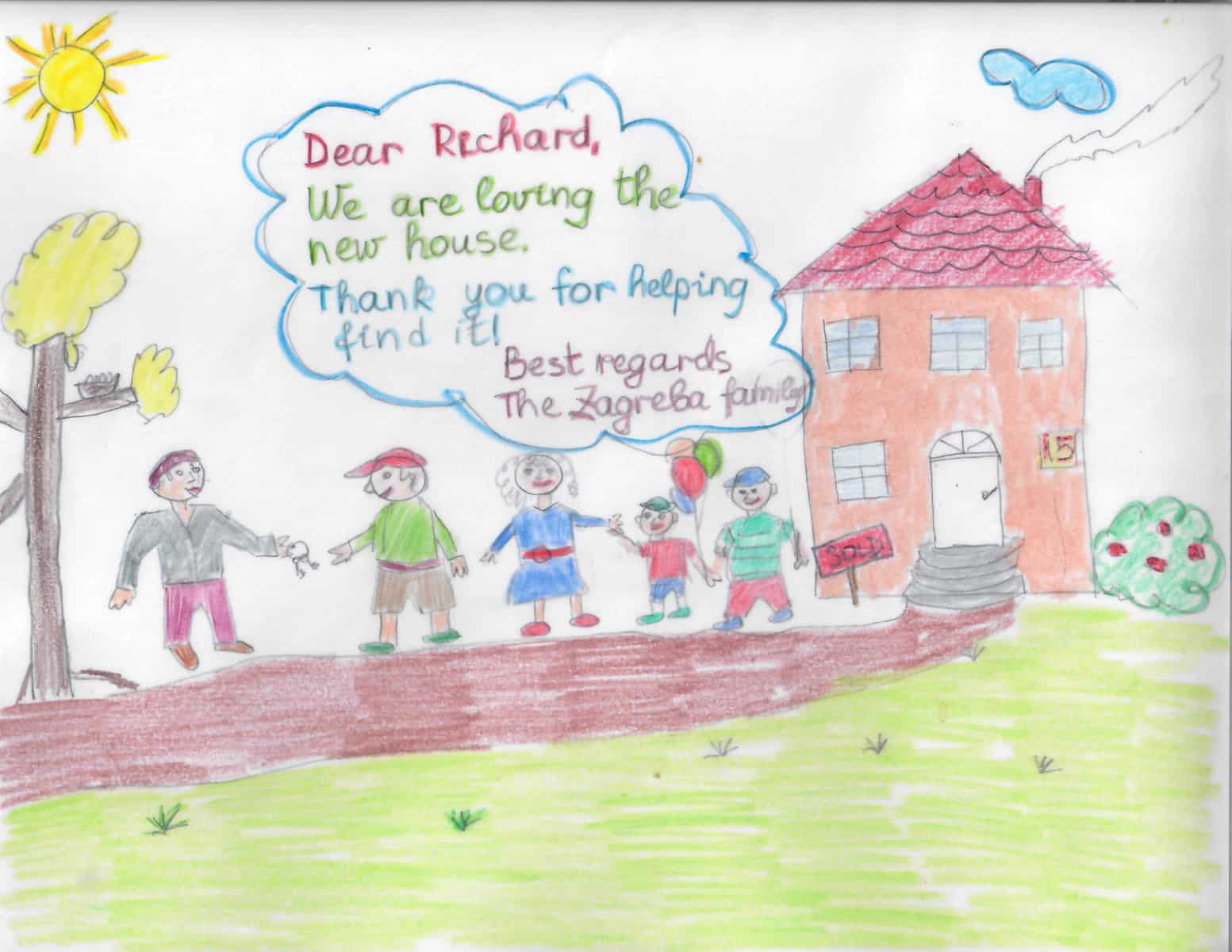 "
The Zagreba Family - Irvine, CA
Thanks to Richard this was by far our smoothest transaction.
"Having Richard as our realtor was a really great experience. He was very knowledgeable about the market and understood what we were looking for. He did a great job helping us find, negotiate and successfully purchase an off-market property in our dream neighborhood at a great price! Our appraisal confirmed he got us a great deal! During escrow, he was extremely knowledgeable about home repair related items that came up in the inspection and knew the real estate contracts inside and out. My wife and I have bought 5 homes in our life and thanks to Richard this was by far the smoothest transaction."
Spencer & Alexis - West Floral Park - Santa Ana, CA
I'd Recommend Richard to a Friend in a Heartbeat!
"As a first-time buyer, I had a lot of questions and hesitancies. Richard proved to be an all-around trustworthy and thorough agent. He worked with us for months as we sought out the perfect fit for our family, producing reports and pointing out the pros and cons for each of the properties. When it came time to make an offer, he stayed with us and walked us through every single document. When the sellers agent was unresponsive and attempting to play games, Richard knew exactly what to do to move things forward on our short timeline. He was attentive to all our needs and I was always confident that he was working hard on our behalf. He's just a great guy. I would recommend him to a friend in a heartbeat!"
Mitch & Eilleen - Huntington Beach, CA
Richard will protect you throughout the entire buying process
"The day my husband and I met Richard, we knew right away that he is a GOOD person. He is also very COMPETENT and KNOWLEDGEABLE in helping people achieve their dream house. The complexity of purchasing a house was simplified effortlessly by Richard. You will hardly find someone who EXCELS on their job and at the same time have good intentions and will PROTECT you throughout the entire buying process. Selling your house and buying a house are both very stressful but if you have Richard in your journey, things will be easier, smoother, manageable and very enjoyable. Throughout the process, we met, we learned, we were guided and we became good friends. We wish every real estate agent is just like Richard. Thank you for making it happen, Richard!"
Alma & Daniel - Irvine, CA
Richard Offered to be Our Eyes and Ears
"I am writing this review from Charlotte, NC and with a smile on my face as I've been fortunate enough to cross paths with Richard Wamsat, Realtor in Orange County. My wife, 1 yr old daughter, and I, were looking to make the move back home from Charlotte, NC to Irvine, CA as I had just been promoted to a new role within my company. At first, we tried to take it upon ourselves to reach out to the listing agents on various different sites but nobody would give us the time of day as we were literally 2600 miles away. We ran into one of Richard's listings and while the home was no longer available, Richard offered to be our eyes and ears and didn't shy away from the fact that we were 3 time zones away and that he had never even met us in person. He took the time to ask questions, understand what we were looking for in a home, what our concerns were, and even our favorite spots in Irvine so we wouldn't end up too far from them. He then facetimed us in AFTER he had given the homes a walkthrough to determine if it was something that met our criteria. Richard is an amazing realtor and a genuinely good guy, and it is my honest opinion that you are doing yourself a disservice by not giving him a ring if you are in the market as a buyer/seller/renter. When we buy, we know hands down, who exactly who we are going to. We've now locked down our place and can't wait to move HOME! Thank you so much for going the extra mile for us, Richard!"
The Lee Family - Irvine, CA
Trustworthy Agent That Will Go The Extra Mile
"If you are looking for a trustworthy agent that will go the extra mile while providing you with sound advice for legal matters and the market advice, then look no further. This was the second time Richard represented us our real estate agent. Three years ago, we rented out our townhouse and we found a really nice SFR to rent with his tremendous help. Our experience was very positive, but when we decided to sell the townhouse three years later, we still wanted to interview a few other agents before we decide. We still had a tenant under contract until the end of June 2018, but we wanted to sell before that to take advantage of the tax laws of living in the property for two years of the past five. We asked each agent we interviewed about some strategies for convincing our tenant to leave early and the challenge of going to the market and selling the unit as fast as possible when this happens. There are a lot of agents out there who may try to win your business by offering you a better rate or by making promises that may not be fulfilled. The most important factor for us was having a piece of mind when there is so much at stake. Richard stood out for that quality and we felt like we made the right choice from the beginning. While we are waiting for our tenant to find a new place, Richard was able to find a buyer who made a very competitive offer before the house even went to the market. Richard was able to get a hold of some prospective buyers who made offers to a similar townhouse. One of them turned out to be our buyer. The process wasn't without hiccups. We had a leak in the wall between our unit and the neighbors during the escrow. The appraisal came low and it had to be readjusted after the sale of the similar unit was complete. In each obstacle we experienced, Richard came through with great advice and strategy. He stepped out to the plate and go above and beyond our expectations. We were able to close the escrow without much delay and both parties were happy. Working with Richard, we noticed that he not only put our minds at ease but he also gained the confidence and trust of all the parties involved in the sale. So if you are considering him to represent you, we can say from personal experience that you will not regret choosing him."
Hasan & Andaleeb - Irvine, CA
He Actually Cares For His Clients!
"We just recently sold our condo/townhouse in Irvine, CA for a much higher price than what we've listed it for and got multiple substantial offers. This wouldn't have been possible without the expertise of Richard Wamsat. During our very first meeting, he provided us with a detailed "comparative analysis" of our property in contrast to other similar units within our condominium complex. He came well prepared and presented himself in a very professional manner. He then planned the entire process of the sale utilizing his craft in every aspect of it: the staging, the Open House, negotiating the terms of the best offer, etc. Richard also exhibited the ability to handle all the challenges that occurred within this period and had always reassured us that it will all be taken care of. In fact, he took care of all the details of the sale! However, the one thing that we truly admire about Richard, aside from his diligence, proficiency, and trustworthiness, is his highly conscientious character and the fact that he actually cares for his clients. We didn't expect that from him but were pleasantly impressed that he truly is a person of integrity and honor. He saved us from difficulties and from having to spend money on something that he was able to remedy. Richard's uniquely efficient strategy publicized our property to several possible buyers and created an influx of interested buyers at the Open House. Thus, resulted in multiple offers the next few days. To sum it up, our whole experience during the sale of our place with Richard has been a one-of-a-kind, pleasant, very productive and memorable one. He delivered way above our expectations and has definitely gained our admiration and respect. We would like to extend our deep gratitude to him in making this journey toward our retirement an "easy" one."
Myron & Carolyn - Irvine, CA
We Should Have Hired Richard From The Beginning!
"There are thousands of real estate agents in Southern California, but Richard is the best. When we met with Richard for the first time, he was very friendly and helpful showing us the house and taking us to see the community, very patient. Although he was the seller's agent, he listened and spent a lot of time with us to answer questions which should be answered by our agent. He is so patient, professional and nice! Even on the closing day, he went the extra mile and drove through the community to find us to make sure we got our keys. These things should be done by my agent, [Buyer's Agent's Name Removed]. Sharp contrast!! Finding a good and professional agent is so important. It can help you save a lot of money, time and energy!! Choosing Richard, you will be happy and satisfied. I promise. We should at the beginning let Richard be our agent. Next time, we will work with Richard! Highly recommended to everyone!"
Zhen & Jianan - Irvine, CA
Honest, Professional, and Personable
"Selling my townhouse on Irvine was probably one of the hardest decisions I've had to make in a very long time... I interviewed a couple of agents and I ultimately chose to work with Richard because I felt that he had taken the time to really get to know the complex I lived in. He understood it's uniqueness and also had a really good handle on marketing my unit. He didn't disappoint. He had a plan, we followed his plan and I received multiple offers within 24 hours of the open house. I ended up going with an all-cash offer that was above listing. He did an amazing job in getting everything done and keeping things running as smoothly as one can with the sale of a home. All of this, despite the fact that he had to deal with an extremely challenging agent on the other side! I would highly recommend Richard to anyone who is considering selling or buying. He's honest, professional and personable - I'm not certain the same can always be said for others in his profession. Thank you Richard!"
He Brought In Experts To Make My Home Look The BEST It's Ever Looked!
"I interviewed other Agents before choosing Richard. I chose him because he was so well prepared for our meeting and so professional. I was confident I would be in good hands and he has more than exceeded any expectation I might have. He committed to helping me through every step and he did that with consistent excellence. His calm and perspective in the middle of the home selling and home buying experience was invaluable. He also brought in experts to make my home look the best it ever has by thoughtful and strategic staging and photos. In fact, his strategic perspective is awesome and he is a powerful negotiator. I have found him to be unfailingly professional in all circumstances and his followup is excellent. He kept me in the loop every step of the way. I highly recommend Richard as your agent of choice."
Richard's attention to detail, knowledge of real estate, and negotiating skills are absolutely remarkable!!
"We were recommended to Richard by a family friend, and as first time home buyers, we were very nervous and didn't know what we didn't know. From the very first time we met Richard, we knew we were in great hands!! He sat down with my wife and I to understand what we were looking for, what we liked and disliked, so he could help us not only find our dream home, but also eliminate what we weren't looking for. Richard not only helped us understand the process of buying a home, but was able to take all of the complex items involved and make them simple. His attention to detail, knowledge of real estate, and negotiating skills are absolutely remarkable!! My family and I were able to buy the home of our dreams at an amazing price because of Richard, and we are eternally grateful. I will recommend Richard to all of my friends and family because I know he will do an amazing job for them as well. Richard will be our real estate agent for every home we buy and sell, and we are proud to now have him as a friend. Thank you Richard!!"
Eric and Jennia - Ladera Ranch, CA
He Was One Step Ahead Of The Process
"Richard was highly recommended by a friend, and we were so happy with his service. Richard is extremely informed and skilled at his job. We were out of the area and he handled the entire sale for us (including keeping us informed on the repair work when the contractor wasn't communicating well). He was quick to respond to email, texts or regular calls. He was one step ahead of the process and was able to sell our rental (over the asking price) from start to finish in a little over 30 days! I would highly recommend him to anyone looking for service that exceeds the normal standard."
Three Offers In Less Than 10 Days
"Working with Richard was a great experience. His patience, professionalism, expert negotiation skills and his friendly attitude gave us confidence during a stressful moving process with many unknowns and uncertainties. The first time we met Richard was about 18 months ago in Northwood, Irvine CA. It was right after one of his listings in our townhouse complex went into escrow. We told him that we were not considering a move at least another year or so. He still took his time to answer our questions and discussed our future options in great detail. He also gave us access to his MLS portal to monitor the real estate activity in our area. Fast forward to April 2015, we finally decided that the time has come to look for a new place. We got back in touch with Richard during the multifamily garage sale he organized in our complex. There were other agents that organized garage sales in our area in the past, but Richard stood out with his preparation, organization and attention to detail. We purged some of our stuff that day, and had a brief discussion with Richard about our move. We met several other agents during open houses we visited but Richard's professionalism impressed us enough to invite him over for further discussion. We were not sure whether to lease or sell our townhouse. We primarily wanted to rent a bigger place, but we were also open to buying. Richard came very prepared with several folders of information summarizing rental and sale activity in our area. He answered our questions and eased our concerns about being a landlord. We also wanted to find a new place before we are out of the old one. We wanted to postpone all repair and upgrades in our place after we move out. Richard gave excellent suggestions to accommodate all that and listed our home to be leased at a future date. The price point he set was perfect bringing a lot of foot traffic and three offers in less than 10 days. We simultaneously started searching for our next home. It was a tough rental market with very few options since we wanted to stay close to our son's school. We didn't care much of the available listings, but Richard patiently took us around to many homes. We finally found a home we really liked after couple weeks. It was a SFR on a cul-de-sac with a very large yard for our area. We later found out that there were 5 other offers for the house. Richard's expert negotiation skills came handy at that point. He put a nice offer package together for us and against all odds, we were able to snatch our dream home. Right after securing our new home, we accepted one of the offers for our townhouse. Richard was again great help when we hired contractors for fresh paint, new carpet and deep cleaning. We got estimates from the contractors he advised. Although some of the contractors we hired was different people, offers from his trustworthy contacts helped us assessing different bids. He gave us all the necessary tools, CC&Rs, HOA guidelines and walked us through the process step by step. His commission was marginal compared to the time and effort he put. I strongly recommend him for anyone looking for a trustworthy, organized, and friendly real estate professional who goes the extra mile for his clients."
Hasan & Andaleeb - Irvine, CA
Highest Price Per Square Foot In The Area
"I worked with Richard on both the sale of my condo (in Orange County) and the purchase of a new home (on the San Bernardino/Riverside County border). Richard dedicated a lot of time and energy in helping me stage my home for sale. He knew the market very well and negotiated one of the highest price per square foot in the area. For my purchase, we toured many properties and he helped to negotiate the lowest price for the model I decided on. He was very helpful, patient and knowledgeable throughout both processes."
Richard's Ability To Listen And Understand Our Needs Was Exceptional
"Marilyn and I have bought and sold 9 homes across the United States. We've worked with some good agents, some average agents, and one or two true superior agents. Richard Wamsat is in the superb/superior rating. We first met Richard at an open house in Irvine, CA almost 8 months ago. He was extremely busy; but found a way to connect in the most meaningful and sincere manner. We gave him our criteria and time frame to relocate. Richard immediately set up home searches for us defined by us from the MLS. We became quite familiar with a couple areas and really zeroed in on two specific communities. Once we did this, Richard went to work. When we knew we had a firm offer on our home we called Richard and made arrangements to look at very specific homes in the areas were were considering. Every home Richard showed us was exactly what we were looking for. Richard's ability to listen and understand our needs was exceptional. We zeroed in on a home we loved and then the real work began. We can honestly say that we have never observed an agent that was more knowledgeable or helpful than Richard. We didn't have a particularly difficult negotiation, but Richard advised us in ways that we had not considered before. His negotiation skills are significant. His knowledge of city, state, and federal housing laws and regulations are superb as well. He helped us understand the HOA CC&R's at our new home. Richard always worked in a proactive manner and always anticipated our needs as well as anticipated potential obstacles that we did not ever understand. In the end, we could have chosen two or three other realtors that we knew and had worked with before almost 20 years ago - in the area that we bought. I can tell you from personal experience they would not have done the numerous things that we saw Richard execute on our behalf. If you are looking for an ethical, hardworking, honest, and dedicated professional - you have found him! Call Richard Wamsat; you will not be disappointed."
Len & Marilyn - Aliso Viejo, CA