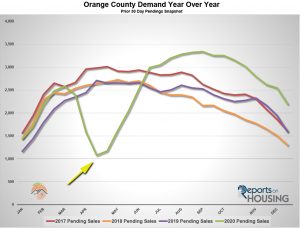 For all of 2020's challenges, the housing market provided a shining star helping to fuel the economic recovery across the nation. California took the lead; Orange County, CA issued "Stay-At-Home" orders on March 17, 2020, followed by the entire state being ordered into lockdown two days later. Initially, real estate was not classified as an essential service; and it wasn't until the end of March that residential real estate would be added to a list of essential services. In Orange County, CA buyer demand hit rock bottom in mid-April 2020 and has since rebounded to record levels. Can we expect more of the same in 2021?
Here is what the experts think about the year ahead.
"The economy has dramatically improved, but there is still a long way to go. It will take a bit more time due to the slow rollout of the recently approved vaccines. The low interest rate environment will continue and will be a tailwind that will not only aid the recovery to the economy, but it will also continue to fuel the incredible run-on housing in 2021. As a result, the local [Orange County, CA] housing market is going to be HOT in 2021."
"In 2021, I think rates will be similar or modestly higher, maybe 3%…So, mortgage rates will continue to be historically favorable."
"Mortgage rates are expected to remain low for the foreseeable future and millennials will continue forming households, keeping demand robust, even if income growth moderates. Despite the best intentions of home builders to provide more housing supply, the big short in housing supply will continue into 2021 and likely keep house price appreciation flying high."
"With home builder confidence near record highs, we expect continued gains for single-family construction, albeit at a lower growth rate than in 2019. Some slowing of new home sales growth will occur due to the fact that a growing share of sales has come from homes that have not started construction. Nonetheless, buyer traffic will remain strong given favorable demographics, a shifting geography of housing demand to lower-density markets and historically low interest rates."
"We expect sales to grow 7 percent and prices to rise another 5.7 percent on top of 2020's already high levels."
Bottom Line
Whether you are planning to buy or sell a home in the new year, let's connect to talk about how you might take advantage of the Orange County, CA real estate market in 2021.